Top System Easy Trim and Easy Dock
Electronic control systems surface drives Top System
The propelling system Top System presents revolutionary products in the world of surface drive.
The products currently available for the clients are: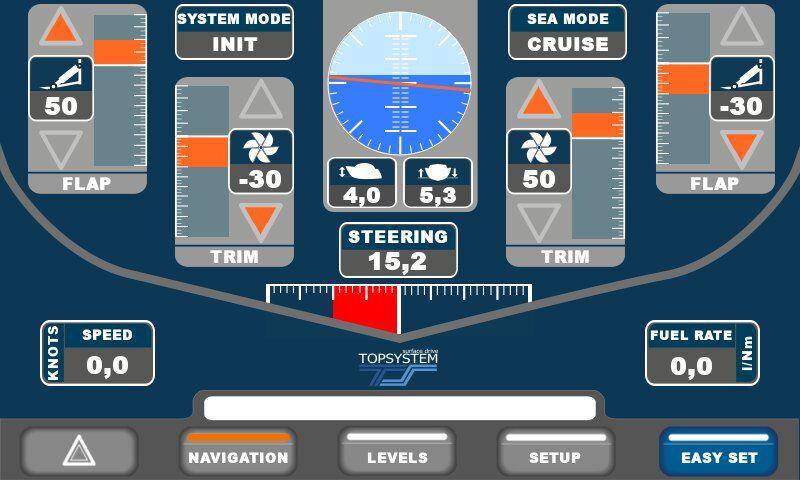 Easy trim TopSystem
Integrated system connected to the engines Can net, of which it visualizes all the data, in order to realize the total control of Trim and flap.
This amazing product allows to control automatically trim and flap, without the pilot has to control the trim. It is necessary only to set up the kind of the wanted navigation among the three following:
CRUISE the system favors the comfort and the smallest consumption liter / mile
SPORT the system considers only the highest performance
ROUGH in case of very rough sea waters, it controls the plane trim, optimizing the boat performance
Easy dock TopSystem
Products realized in world preview for the surface drives.
Top System Joystick allows to use the boat in manoeuvre working with the propellers and to obtain the same results of the other propelling systems using it. The drives are independent without the tie bar.
The steering gear is not hydraulic, but electro-hydraulic, called "steer by wire".
Besides used for the manoeuvres, the system has the possibility to be used in cruise, replacing rudder wheel and engine control levers.
Per maggiori informazioni – For more information contact us:
https://topsystemdrive.com/wp-content/uploads/2012/01/Easy-trim-topsystem-drive.jpg
480
800
Alessandro Vitale
https://topsystemdrive.com/wp-content/uploads/2021/04/TS-orizzontale.png
Alessandro Vitale
2019-12-10 15:22:42
2019-12-13 14:48:33
Top System Easy Trim and Easy Dock